The Job Done Right at The Right Price
Certified Transmission is a family-owned & operated company with 7 Kansas City transmission shops located in Blue Springs, Gladstone, Grandview, Independence, Liberty, Olathe, and Overland Park. With our company slogan in mind, "The Job Done Right...at The Right Price", our technicians are the best in Kansas City at diagnosing, fixing, and servicing vehicle transmissions.
Kansas City

Auto Transmission Repair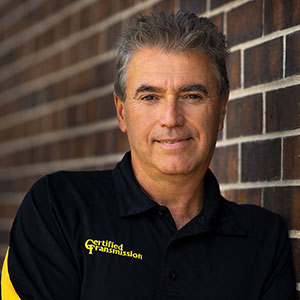 Certified Transmission is a family-owned and independently operated Omaha business that was founded in 1979 by Peter Fink. With 14 company-owned retail locations in Iowa, Nebraska, Kansas, and Missouri, and distributors from coast to coast, Certified Transmission is recognized by many as the best place for remanufactured transmissions in the United States. Each of the 14 company-owned transmission shops specialize in the repair, service, and diagnosis troubleshooting of both manual and automatic transmissions, domestic or foreign, both old and new. In addition to repairing and servicing transmissions, our expertise includes electronically controlled systems, clutches, drivetrain components, differentials, and various four-wheel drives.
The goal of the teams at our transmission shops in Kansas City is to provide customers with the most ethical, honest, and professional service in an effort to accurately troubleshoot, diagnose, and repair their transmissions. The Certified Transmission slogan is "The Job Done Right at the Right Price". Certified Transmission employs transmission technicians & specialists that have exceptional training and expertise. Our company takes pride in each and every transmissions fixed at our 7 Kansas City area transmission shops. It is our belief that our customers both expect and deserve professional and personalized treatment. Additionally, when completed with a repair or service, our team of technicians want customers that are happy and leave knowing if they every have a transmission problem again, Certified Transmission will be the first name that comes to mind.
TESTIMONIALS
My Jeep drives like it is brand new and I will definitely recommend them to anyone who needs transmission work!
Mike Turk
Lee's Summit Missouri
Joe kept me up to date on how the repairs were going, and finished the job in a short amount of time.
Mark Northrup
Springfield NE
Certified Transmission took really good care of us from start to finish. Got our car towed, diagnosed and repaired in 2 days!
Lowell Hurt
Leavenworth KS
I cannot say enough about how well I was treated.
Arlie Arnold
Excelsior Springs MO
Certified Transmission is a vendor that you can count on to provide a great product, clear communication and great service.
Service was great! My truck drives better than ever! I will definitely be using Certified Transmission for all my vehicles.
Chris Bitter
Blue Springs MO
Awesome! I am completely satisfied and feel comfortable to take my car out of the city limits and travel with it once again.
They were very friendly and very respectful when they were explaining things so we could understand why everything need fixed at once. Will definitely refer friends to them. Thanks for the great work.
Robert Bowen
Blue Springs MO
I was glad that I trusted them with my car. It now works great, and they have given me great follow up. I will be bringing my car back to them for timely servicing.
Kevin Keith
Overland Park KS
The vehicle shifts better than it ever did before. I am confident in the work that Certified has done, and the customer service is exceptional and honest.
Tina Jacobson
Kansas City MO