The Job Done Right at The Right Price
Certified Transmission is a family-owned & operated company with 7 Kansas City transmission shops located in Blue Springs, Gladstone, Grandview, Independence, Liberty, Olathe, and Overland Park. With our company slogan in mind, "The Job Done Right...at The Right Price", our technicians are the best in Kansas City at diagnosing, fixing, and servicing vehicle transmissions.
Kansas City

Auto Transmission Repair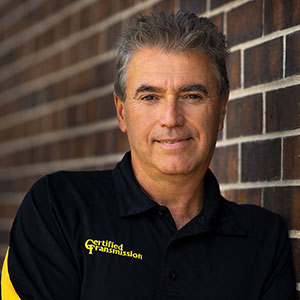 Certified Transmission is a family-owned and independently operated Omaha business that was founded in 1979 by Peter Fink. With 14 company-owned retail locations in Iowa, Nebraska, Kansas, and Missouri, and distributors from coast to coast, Certified Transmission is recognized by many as the best place for remanufactured transmissions in the United States. Each of the 14 company-owned transmission shops specialize in the repair, service, and diagnosis troubleshooting of both manual and automatic transmissions, domestic or foreign, both old and new. In addition to repairing and servicing transmissions, our expertise includes electronically controlled systems, clutches, drivetrain components, differentials, and various four-wheel drives.
The goal of the teams at our transmission shops in Kansas City is to provide customers with the most ethical, honest, and professional service in an effort to accurately troubleshoot, diagnose, and repair their transmissions. The Certified Transmission slogan is "The Job Done Right at the Right Price". Certified Transmission employs transmission technicians & specialists that have exceptional training and expertise. Our company takes pride in each and every transmissions fixed at our 7 Kansas City area transmission shops. It is our belief that our customers both expect and deserve professional and personalized treatment. Additionally, when completed with a repair or service, our team of technicians want customers that are happy and leave knowing if they every have a transmission problem again, Certified Transmission will be the first name that comes to mind.
TESTIMONIALS
The courteous and excellent service continued although the transmission problem was determined to be low transmission fluid. The fluid was replaced and the children and I went on our way!
I was very pleased with the friendly and professional service I received from the team under the leadership of manager Scott Thibaul!
Carson Ross
Blue Springs MO
My Jeep drives like it is brand new and I will definitely recommend them to anyone who needs transmission work!
Great service. On time as promised.
Christy Dienstbier
Overland Park KS
Great experience at the Blue Springs location. Eric was very helpful in mapping out my options after my truck was diagnosed.
Roland Steele
Grain valley MO
The job was completed in a timely manner and we felt blessed to have found someone who is customer service oriented. Thank you to both him and his transmission specialists.
I highly recommend their work for your transmission problems. Thank you, Greg and technicians at Certified in Gladstone.
Tina Jacobson
Kansas City MO
True to his word, Eric and Brent had us back on the road by 4:30 and home without additional issues. Thank you, thank you!
Dorothea Hartemink
Fort Myers FL
The crew at Certified did a great job on my Chevy, the replacement transmission is better than the original.
Certified Transmission is always so professional and I highly recommend their service.