The Job Done Right at The Right Price
Certified Transmission is a family-owned & operated company with 7 Kansas City transmission shops located in Blue Springs, Gladstone, Grandview, Independence, Liberty, Olathe, and Overland Park. With our company slogan in mind, "The Job Done Right...at The Right Price", our technicians are the best in Kansas City at diagnosing, fixing, and servicing vehicle transmissions.
Kansas City

Auto Transmission Repair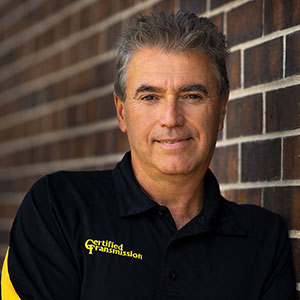 Certified Transmission is a family-owned and independently operated Omaha business that was founded in 1979 by Peter Fink. With 14 company-owned retail locations in Iowa, Nebraska, Kansas, and Missouri, and distributors from coast to coast, Certified Transmission is recognized by many as the best place for remanufactured transmissions in the United States. Each of the 14 company-owned transmission shops specialize in the repair, service, and diagnosis troubleshooting of both manual and automatic transmissions, domestic or foreign, both old and new. In addition to repairing and servicing transmissions, our expertise includes electronically controlled systems, clutches, drivetrain components, differentials, and various four-wheel drives.
The goal of the teams at our transmission shops in Kansas City is to provide customers with the most ethical, honest, and professional service in an effort to accurately troubleshoot, diagnose, and repair their transmissions. The Certified Transmission slogan is "The Job Done Right at the Right Price". Certified Transmission employs transmission technicians & specialists that have exceptional training and expertise. Our company takes pride in each and every transmissions fixed at our 7 Kansas City area transmission shops. It is our belief that our customers both expect and deserve professional and personalized treatment. Additionally, when completed with a repair or service, our team of technicians want customers that are happy and leave knowing if they every have a transmission problem again, Certified Transmission will be the first name that comes to mind.
TESTIMONIALS
You guys are the best! Our 2002 Explorer is running absolutely flawless after the transmission flush, filter and fluid replacement you performed on our Ford Escape.
I am in love with this shop and I will tell everyone that I know how good this place is.
Jackie Smith
Independence MO
Jeff even came in on a Saturday to lend us his oldie but goody Buick for free til car done 2 days later. We are very grateful for his classic and genuine service along with the repair guy!
Certified Transmission is a vendor that you can count on to provide a great product, clear communication and great service.
I cannot say enough about how well I was treated.
Arlie Arnold
Excelsior Springs MO
Certified Transmission is honest and trustworthy and won't try to sell you something you do not need.
Certified Transmission took really good care of us from start to finish. Got our car towed, diagnosed and repaired in 2 days!
Lowell Hurt
Leavenworth KS
Work done very quickly, staff was helpful and kept me updated promptly throughout the process.
James Low
Weatherby Lake Missouri
I was not expecting this type of service at all I highly recommend that if you need work done to bring to them they do great at there craft I will recommend them to any one that could use work done I can not say enough good things
Frank warburton
lee summit MO
I hope I don't have to have another transmission replaced, but if I do I will continue to be a very happy repeat customer!
Susan Hampton
Gladstone MO